In 2021, LINOLEUM International Contemporary Animation and Media Art Festival will run between September 1st and 5th in a hybrid format. Competition sections and special screenings will take place offline in Zhovten cinema theatre in Kyiv, while the education programme will be streamed online on the festival's Youtube and Facebook pages.
This year's theme of LINOLEUM is PRESENCE. INTIMACY. TOUCH. One day, we woke up in a world where the usual order of things fell apart. We've learned pretty fast that physical presence is nearly a rarity, intimacy is a forbidden entertainment and touching is a mortal danger.
Independent illustrator, animator and filmmaker Hanna Rybak tried to give her perspective on reshaping the reality where value is defined by its ability to be grasped and the experience of existing depends on touch. She created the visual identity for LINOLEUM 2021.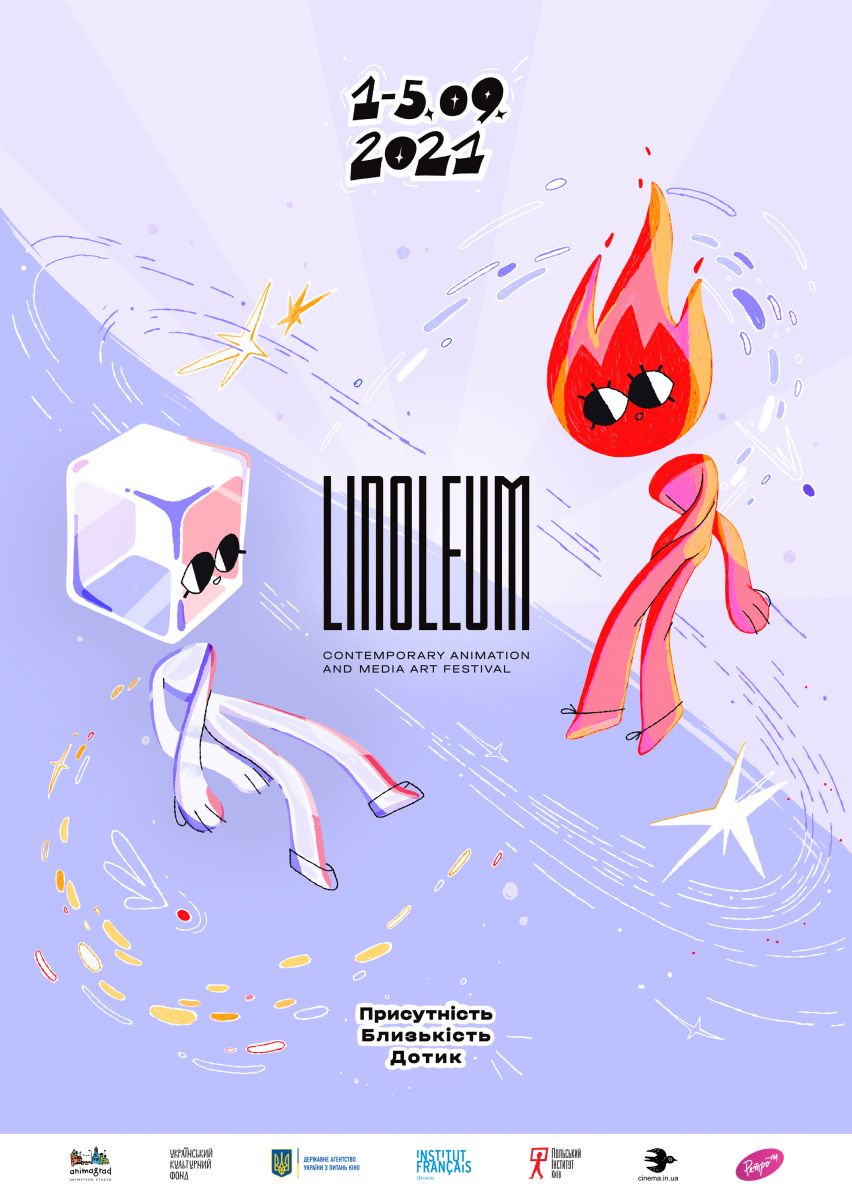 "This year's theme PRESENCE. INTIMACY. TOUCH inspired mixed or rather opposite feelings for me. I immediately thought of the impossibility of presence, intimacy, and touch due to last year's events. Having gone (and still going) through the quarantine restrictions, we started appreciating the little joys of just being close to each other. The festival's visual identity narrative unfolds with a touching story of two characters – Ice and Fire. They strive for intimacy which is absolutely impossible due to their nature. Yet, their pure and sincere feelings make everything possible, and they deserve a happy end," comments Hanna Rybak.
"For every festival edition, we search for an artist whose visual style and taste would help us to explore the central theme better. This year, we chose Hanna Rybak. Her films participate in the competition section of our festival almost every year, and we've been following her artistic progress for a while. This year's theme is directly connected with all the restrictions caused by the pandemic. We believe that Hanna could feel this context on a profound level and convey this longing for intimacy we all have been deprived of for so long," shares Anastasiia Verlinska, the program director of the festival.
LINOLEUM International Contemporary Animation and Media Art Festival will run between September 1st and 5th. This year, the festival team received 2892 entries from 75 countries. Traditionally, there will be three competition categories – for international, Ukrainian and commissioned films. Other programmes include experimental and kids films, Ukrainian retrospective, LADIES FIRST (films by women about women) selection and new polish animation from the O!PLA festival. New sections will present two Estonian animation retrospectives (classical and contemporary), a return of the last year's #killmeplease selection in two different programmes, as well as a block dedicated to the festival theme and VR animation.
And the most significant update of the festival programme is the New Faces selection that will feature the work of promising Ukrainian animators who have not participated in the festival yet.
The festival is organized by Animagrad Animation Studio.
Festival partners: Polish Institute in Kyiv, Institut français d'Ukraine.
Media partners: cinema.in.uat, Retro FM.